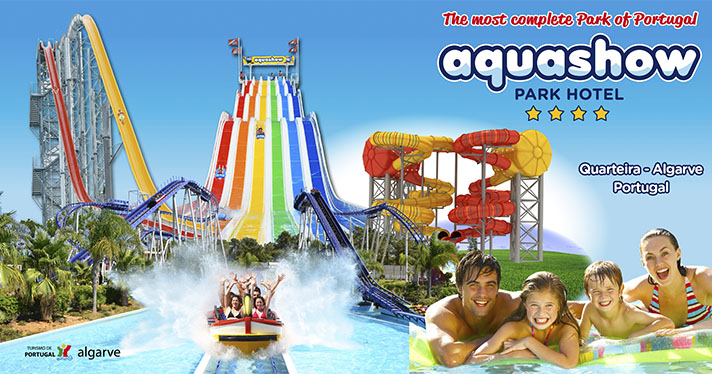 The event you are trying to access doesn't exist or has ended.
Event Description
O Aquashow Parque é o melhor e maior Parque Aquático e Parque Temático de Portugal, no Algarve, em Quarteira.

As principais atrações aquáticas para pequenos e graúdos são o Maior Free Fall da Europa, Twin Space Shuttle, a Montanha Russa, Speed Race, Wild Snake (escorrega de 16 metros), White Fall, Pistas Foam, Piscina de Ondas, Aqualandia (espaço dedicado aos mais pequenos), Tubos, Piscina de Natação, Aquakids, Mini Multipistas, Large Slide, Star Tunel, Jacuzzi ou o Lazy River.

Ao comprares online na Last2Ticket, o bilhete pode ser apresentado impresso ou num telemóvel smartphone.

Com o bilhete eletrónico, acabaram-se as filas de espera! O bilhete é válido durante toda a temporada de 2017, com abertura em Maio.
Informações:
- O bilhete é impessoal
- Aconselha-se a trazer fato de banho, toalha, chinelos, t-shirt, protector solar, chapéu-de sol e boné.
- Para os bebés é obrigatória a utilização de fraldas apropriadas para piscina.
- Proibida a entrada de animais.
- Proibida a entrada de objectos de vidro e outros objectos cortantes/perigosos.
- Proibido escorregar com colares, anéis, pulseiras, relógios, brincos, óculos, telemóveis, câmaras fotográficas e câmaras de vídeo.
- Bebés (0-4 anos) têm entrada Gratuita
Horário:
Maio: 10:00 – 17:00
Junho: 10:00 – 17:30
Julho: 10:00 – 18:30
Agosto: 10:00 – 19:00
Setembro: 10:00 – 17:30
Nota: A campanha exclusiva online de 20% de desconto nos bilhetes do Aquashow Park está disponível até 31 de março 2017. Os bilhetes comprados durante este período não são reembolsáveis.
_____________________________

Aquashow Park is the best and largest water park and theme park in Portugal, at Quarteira, in Algarve.

The main water attractions are the Biggest Free Fall in Europe, Twin Space Shuttle, Roller Coaster, Speed Race, Wild Snake (16 meters long slide), White Fall, Foam slopes, Wave Pool, Aqualandia (space dedicated to the little ones), Tubes, Swimming Pool, Aquakids, Mini Multipistas, Large Slide, Star Tunel, Jacuzzi or the Lazy River.

Tickets bought online on Last2Ticket can be printed or displayed on a smartphone or tablet.

With the electronic ticket, queueing is over! The ticket is valid for the whole season of 2017, opening in May.

Information:
- It is advisable to bring a swimsuit, towel, flip flops, t-shirts, sunscreen, sunshade and cap/hat.
- For babies, the use of appropriate pool diapers is mandatory.
- The entry of animals is prohibited.
- The entry of glassware and other sharp / dangerous objects prohibited.
- It is not allowed to slide with necklaces, rings, bracelets, watches, earrings, sunglasses, cell phones and photo or video cameras.
- Babies (0-4 years) enter FREE

Hours:
May: 10am – 5pm
June: 10am – 5:30pm
July: 10am – 6:30pm
August: 10am – 7pm
September: 10am – 5:30pm
Note: The online only 20% discount offer for Aquashow Park tickets is available until 31 March 2016. Tickets purchased during this period are non-refundable.
Information
Aquashow Park Hotel
Estrada Nacional 396
Quarteira
Portugal