UPTEC promotes technological displays, pitch session and debates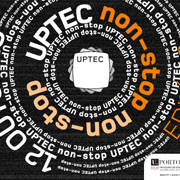 UPTEC's Central Building will stage the event UPTEC Non-Stop, on October 12.
Startup presentations, technology trends debates, visits to laboratories and innovation centres and an exhibition of products are featured initiatives at the event sponsored by UPTEC - Science and Technology Park of the University of Porto itself.
Bringing together new designers, industry experts, scientific community experts and investors, the event presents UPTEC's innovation ecosystem, a structure that has already supported 400 startups and 30 national and international innovation centres that have created more than 2000 highly skilled jobs.
The event has four distinct initiatives such as the "Startup Showrrom", a showcase of products created by startups incubated at UPTEC, the "Non-Stop Pitch" where fifty startups have the opportunity to pitch for five minutes to present their business, and there will be two debate sessions.
The curious can also visit laboratories and development offices of large companies installed in UPTEC, which open their doors to show the environment, the dynamics and the services/products they develop.
For more information, click
here
.