MODtissimo: The largest exhibit in the textile sector returns to Alfandega do Porto with the latest national and international trends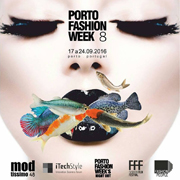 After a special and successful landing at the Francisco Sá Carneiro Airport, MODtissimo returns to Alfandega do Porto, the building that for several years has been hosting the only exhibition of the Portuguese textile sector.
The event is now in its 48th edition and will took place on September 21 and 22.
For two days, and in a 7400 m2 exhibition space, its visitors contacted with Portuguese and international manufacturers of fabrics and accessories for quilting, apparel brands, confection in Private Label or that have their own brand, Man, Woman, Children; accessed fabric Forums, New Talents Forum and found out about all the trends in the area.
MODtissimo is one of the member events of the 8th edition of Porto Fashion Week, which was held September 17 to 24. This is one of the events that intends for the "creative fusion between tradition and innovation" is a constant.
The theme of this edition is "Visual".
Registration for MODtissimo can be done online, the credential is sent via email and it ensured immediate access to the exhibition space.